I've had the honor of working with:
Tacoma Public Schools
Schools Out Washington
Peace Community Center
University of Washington
Seattle University
Seattle Central College
Community Day School Association
Domestic Fair Trade Coalition
FEEST, Food Empowerment Sustainability Team
City of Seattle
College Success Foundation
University Heights Community Center
Women's Funding Alliance
New Beginnings
GLi (Graphic Label, Inc.)
Global Washington
YDEKC, Youth Development Executives of King County
Client Project Profiles
Take a peek at the work I do when I consult
Tacoma Public Schools Partnership Office (TPSD)
"You can achieve, you will graduate, and we are here to help you."
The vision
The TPSD Partnership Office brings community members together to assist young people in creating the future they choose, plan and prepare for.
The need
A strategic plan and work plans based on community feedback. A well facilitated community process to create a new Family & Community Learning Academy.
The work
I provide creative meeting facilitation and help the team develop a timeline, strategies, goals, and tactics for the next five years. I facilitate a yearly planning session that aligns all work plans with the Office's strategic goals and benchmarks. I supported community engagement in the planning of their Family & Community Learning Academy.
The results
A working definition of partnership, and:
A community-based planning processes and yearly work plans
Key benchmarks, indicators, and activities for their work
A work plan for supporting young people's educational success through increased partnerships with the community
"Annie's consultancy was essential in helping our department move from concepts to plans, action steps and outcomes. She made work that was often stressful and overwhelming fun, adventurous and—most importantly—doable."
– Amanda Thomas, Director of Community Partnerships, Tacoma Public Schools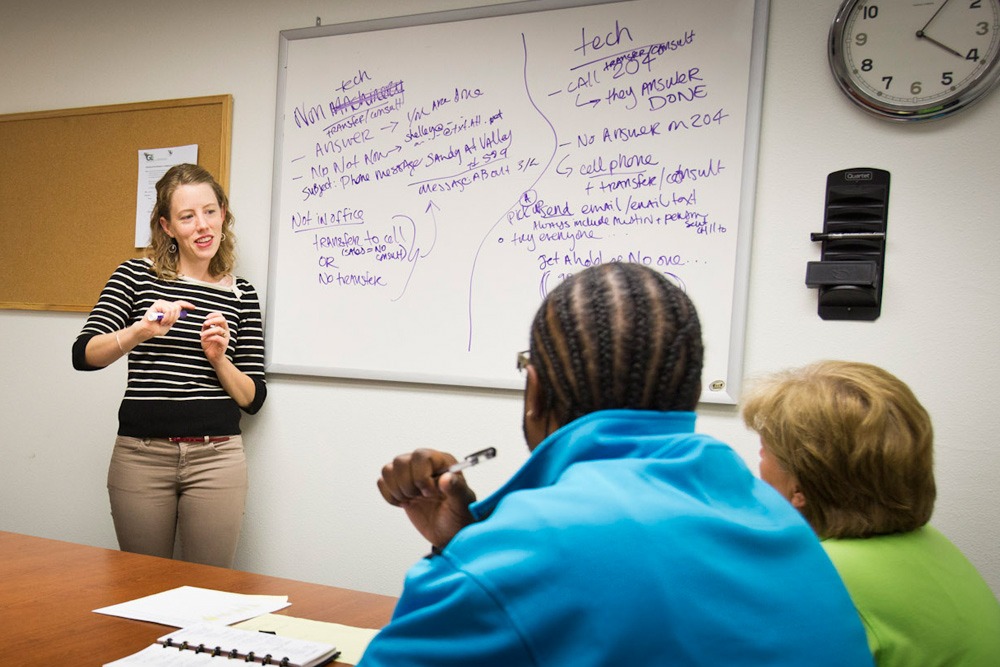 Graphic Label, Inc. (GLi)
The go-to company for fruit and produce labeling and coding support.
The vision
Family-owned GLi provides innovative solutions to ensure that fruit and produce are clearly labeled and tracked from the farm to the neighborhood store. 
The needs
Better online presentation of GLi's products. New procedures for improved teamwork in an expanding marketplace.
The work
I helped GLi develop a marketing plan and new procedures for their growing team.
The results
New materials and procedures, including:
A well-built, easy to navigate website
Beautiful videos describing their products
Clearly defined roles for every individual and team within the organization
Procedures and systems that streamline efficiency and reduce stress
"Annie's positive outlook reminds us that we have more in common than we do different. She kept us focused on our goals so we could accomplish what we set out to do."
– Kim Reeves, Customer Service, GLi
School's Out Washington (SOWA)
Creating a level learning field for all Washington state youth.

The vision
School's Out Washington actively champions the policies, best practices, and diverse programs to ensure full access and fair treatment for youth of all socioeconomic backgrounds.
The need
Dynamic and thoughtful strategies and plans infused with SOWA's core values of equity and quality. Efficient, thoughtful, collaborative teams and Board operating together in a complicated landscape.
The work
I worked with SOWA to develop their internal strategic plans and their 2013 State Plan. I facilitated SOWA staff and Board retreats to increase team collaboration, communication and role clarity.
The results
SOWA balanced a multitude of needs and ideas from the field, and now has:
A statewide Action Plan for Afterschool Youth Development (2013)
A definition of Expanded Learning Opportunity and a strategy for developing ELO programs in Washington state
A Strategic Road Map aligning SOWA's current opportunities and challenges with strategy that leads toward their vision for the future
A Board that remains connected to SOWA's strategic direction
"Annie's strong organizational and facilitation skills have been extremely beneficial to our work. She has demonstrated the ability to synthesize multiple pieces of a complex project and produce cohesive outcomes."
– Jackie Jainga Hyllseth, Chief Program Quality Officer, Schools Out Washington
Peace Community Center
A vibrant community of learners in Tacoma.

The vision
Peace Community Center envisions a community where youth become life-long learners who act with compassion and confidence, using their diverse gifts for positive change.
The need
New strategies and systems for teamwork and communication, following a rapid expansion to include students from elementary school through post-secondary school in the organization's programs.
The work
I supported Peace through a process of clarifying the organizational culture they wanted to live into as they grew. Then I supported them as they refined their mission and clarified their communication strategies. We continue to work together as they develop new systems and procedures that support their work. I also provide executive coaching for their Executive Director, offering him space and time to reflect on how to lead the organization with joy and purpose.
The results
A unified vision and voice, and a solid foundation for continued growth:
New mission and values statements
Solid relationships and communication agreements help staff manage challenging conversations
Emerging systems that support everyone in carrying out quality programs that lead to student success
Team members have confidence in their ability to achieve desired outcomes
Peace's leadership team has skills to meet the growing need for their services with strategy, grace, and action
"After working with Annie, we are becoming a stronger team overall. We're able to implement our goals more effectively. We are more confident in our ability to move forward to get the outcomes we want and desire."
– Bill Hanawalt, Executive Director, Peace Community Center
King County Network
Opening doors to higher education for foster care alumni.
The vision
The University of Washington, Seattle Central College, and Seattle University, working as the King County Network, collaborate to ensure that more students coming out of foster care will be able to enter post-secondary education and graduate.
The need
Clear goals, strong working relationships, and methods for leveraging best practices in order to improve outcomes for students served by the Network.
The work
I provide meeting facilitation, strategic support and project management for the Network, and help the group focus on the big picture.
The results
Clear strategies and communication agreements, which paved the way for:
Goals aligned with each person's own hopes for the work
A model for colleges and universities wishing to collaborate, share resources, and support students who are alumni of care
Re-establishment of a larger community Consortium which will create training and educational materials for former foster youth who want to access post-secondary education
"Working with Annie has been an absolute gift. She has played a critical role in our network's success. Annie brings to her work the perfect blend of intellect, humor, attention to detail, and strategic thinking. She's encouraging and challenging at just the right moments, and always demonstrates deep respect for the expertise of the folks in the room. I cannot recommend her more highly. My only regret is that we didn't find her sooner!" 
– Colleen Montoya Barbano, Director, Fostering Scholars Program, Seattle University
Want to enjoy your work, and feel calm and connected?
Get 5 tips to de-stress now in the midst of challenging work — plus monthly inspiration.
Clients